Stratus is a professional portfolio management software tool.
Real estate asset and portfolio managers deploy the software to control value preservation and real-estate development. Infrastructure managers use Stratus to gain an overview of the condition of roads, service pipes and engineering structures in order to maintain sustainable investments. The software is incredibly simple to use and delivers professionally sound analyses that can be used as a reliable basis for decision making.
Professional software for real estate and infrastructures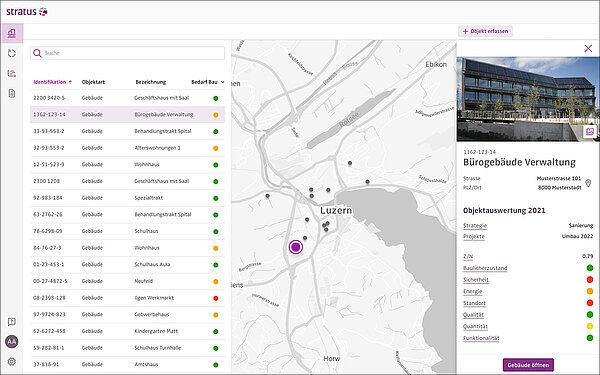 Record and maintain data with a minimum of effort
The basis of any efficient portfolio management is complete, up-to-date property information. Stratus lets you assess the condition of the most important aspects of the building on an intuitive interface in a highly structured way. In addition to the structural condition, you can capture strategically relevant aspects such as energy, security or location.
- Record master data and new values
- Survey the structural condition of individual structural elements
- Record strategic aspects, e.g. energy status
- File documents on properties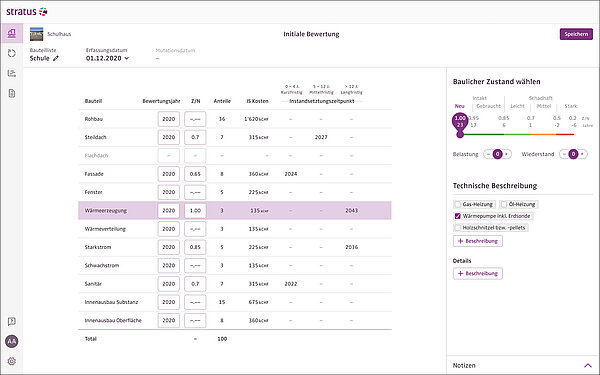 Property evaluation: condition and cost forecasts
The data about the condition of your properties has been collected. The software now determines the relevant parameters for their management. A traffic light system shows you at a glance where action is needed.
_ Current condition of property and structural elements
_ Forecast of the property condition and its long-term development
_ Optimum timings for repairs
_ Forecast of annual costs for maintenance and repairs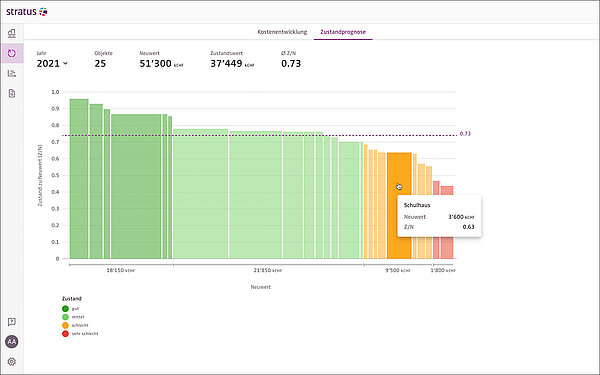 Portfolio analysis: the current status of your overall inventory
Based on the status and condition of your buildings, Stratus provides you with information on the current and future status of your entire portfolio. The software shows you the current lifecycle phase for each of the buildings in your portfolio. Interactive diagrams show you where strategic decisions need to be made.
Current status of the portfolio
Lifecycle of all buildings in the portfolio
Condition forecast
Traffic lights show the need for action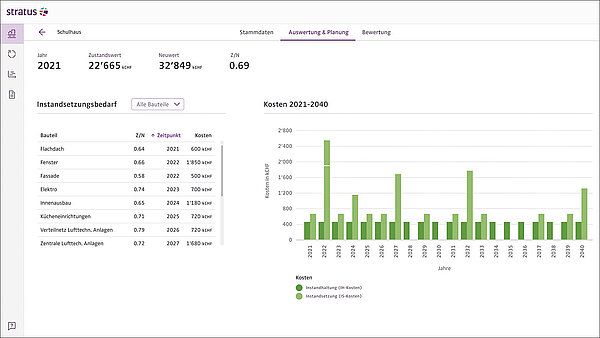 Realistic budgeting: yearly financial requirements
Stratus can add up the yearly financial requirements for maintenance and repairs for the entire portfolio or for a specific selection of buildings or infrastructures. Spending peaks can be clearly identified. Annuity lines highlight the fixed annual budget that is required within the relevant planning timeframe to allow the necessary repairs to be carried out.
Annual costs at property and structural element level
Cost development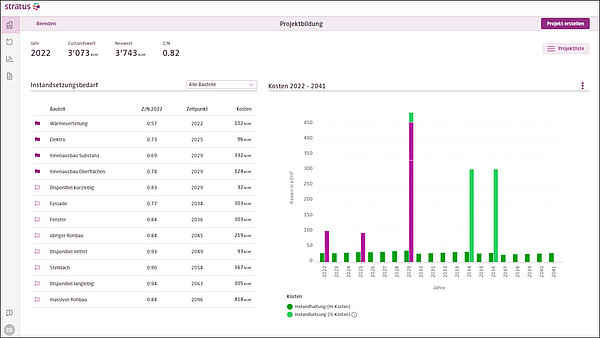 Investment planning: simulate and compare scenarios
In addition to maintenance and repairs, you can also include conversion, expansion and new construction projects in the long-term financial requirements. If unwanted spending peaks occur, Stratus helps to simulate investment scenarios and to reschedule projects. If projects need to be postponed for cost reasons, the software simulates the potential consequential damage and resulting additional costs.
Strategic planning and project creation
Simulation of investment scenarios
Investment planning
Our current packages and prices
Packages to meet every requirement
Whether you manage 20 or 3000 properties or whether you are a public sector organisation, a private company or a real estate investment management company, Stratus supports real estate and infrastructure managers from all kinds of organisations in their central business processes.
Stratus 7.x is the successor software to Stratus 5.1. A completely newly developed software tool, it is both intuitive and extremely user-friendly. Choose the package that suits you best, depending on your needs – either the Basic or Standard package. We will be delighted to advise you and help you make the best possible choice.
Data security and system requirements
Access from anywhere and at any time
The software is 100% web-based, so you have unlimited access to your real estate data and to the key parameters of your portfolio from wherever you are. Do you want to work on a status survey on your tablet and then perform the evaluations from your desktop? With Stratus you can do all of this.
Interacting with other systems
Stratus 7.x is a completely newly developed software tool. It actively interacts with adjacent systems that portfolio managers, project managers and property managers use in their daily work. These will be gradually connected to the new platform via standard interfaces so that a smooth exchange of data between the systems can be made possible.
Take a quick tour of Stratus.
Watch our video and see our portfolio management software for yourself in just three minutes.